Our Redeemer Preschool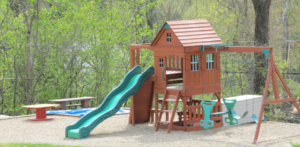 "Train up a child in the way he should go; even when he is old, he will not depart from it." – Proverbs 22:6 ESV
For the 2021-2022 School Year
Hours:  Tuesday, Wednesday, Thursday, 8:30am – 11am
Ages: 3 and 4 year-olds (must be 3 by September 30th)
Price :  $200/month
Registration: The registration fee of $25
If you are interested in enrolling your child at Our Redeemer Preschool, please contact the church office at (603)878-1837
Why Our Redeemer Preschool?
We live in a complex and sometimes frightening world, and one thing that is essential to help children cope with the challenges they face is an understanding of God's love for them. In addition, public preschools are prone to teach unsustainable values to children while sometimes pushing harmful agendas.
Our Redeemer Preschool is a Christian preschool based upon sound teaching methods suitable for preschool children with a focus on teaching practical skills and assurance of God's love.
We are pleased to have Rachel M. Thuillier as our preschool teacher and director! There are still openings available for enrollment, and we look forward to serving the families and children of New Ipswich and the surrounding communities!
A note from our teacher:
Dear Families,

Welcome to preschool! I am thrilled to have you all here. We are going to have a fun and exciting year together filled with learning, activities and lots of laughs!

I am brand new to this school and wanted to share a bit about myself before getting to know all of your children. Although this is my second job, working with children is my passion. I also work as a behavioral therapist for children with autism. I have earned three undergraduate degrees from Fisher College in Boston, MA consisting of an Associate's degree in Early Childhood Education, another Associate's in Health Sciences and a Bachelor's in Human Services. I have done multiple internships in the city at private preschools and in the Boston school systems. I thoroughly enjoy the work I do and am enthusiastic about teaching young kiddos.

Throughout the year, I will be incorporating lesson plans into the classroom that I believe will teach your child so many important things and of course, will be fun, too!

Thanks again and I look forward to an awesome year!

Rachel Thuillier
'Miss Rachel'